Part Two of Easy Embellishments
by Joanne Banko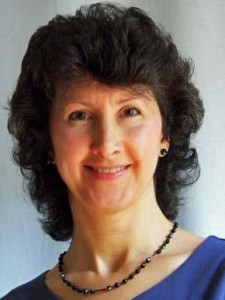 Let's Get Started!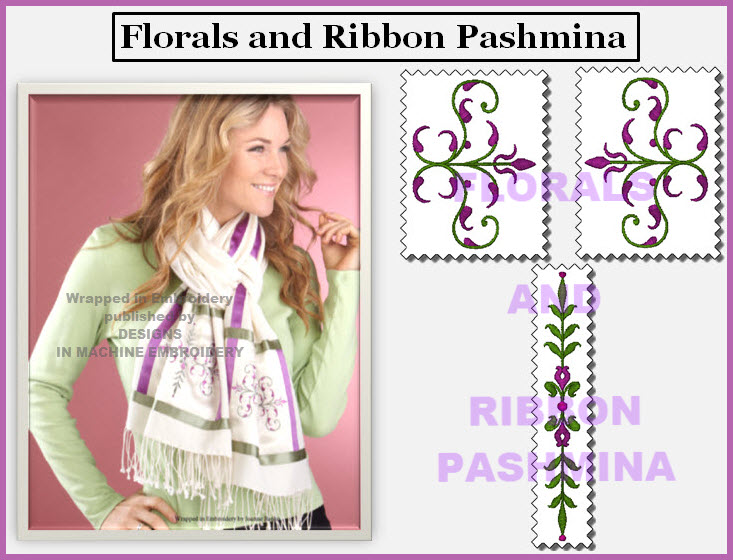 Those of us who are hooked on machine embroidery know the excitement of watching an embroidery design take shape on a plain and ordinary piece of fabric. Whether it is a t-shirt, sweatshirt, or a towel, the addition of a machine embroidered motif turns plain into pretty and blank into beautiful. Simply select your embroidery design, choose your color scheme, hoop it up, and press the start button. In mere minutes you can transform ordinary into extraordinary! As a machine embroidery enthusiast I have certainly done my share of T-shirts and towels and I've embroidered on just about anything that I can get inside the embroidery hoop.
Awhile ago I started collecting pashmina scarves and discovered their versatility. They are as practical as they are elegant. Wear one as a shawl for warmth and good looks or as a chic oversized scarf. I began to envision classic embroidery designs stitched on a variety of pashmina wraps. Hence my book titled Wrapped in Embroidery began to take shape.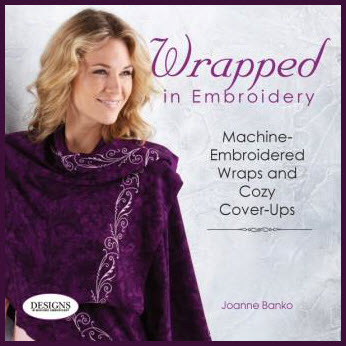 By the time I was finished I had designed a total of nine wraps and cozy cover ups to wear for a variety of both dressy and casual occasions. Wrapped in Embroidery includes embroidery designs, detailed instructions, and a complete supply list for decorating each of the nine wraps. Readers will find six embroidered wraps sewn from scratch and three ready-made pashmina wraps decorated with embroidered bands. I choose silk dupioni for the embroidered bands on two of the wraps but the ivory wrap you see at the top of the page features synthetic crepe back satin as the background for the embroidery designs. Both fabrics work equally well and you can use either one as the base for your embroidery. The book provides specifics for working with these fabrics and you'll even find a bonus tutorial for pre-treating silk dupioni on the included CD. The embroidered bands on each of the three pashmina wraps feature color matched ribbons used to tie together the embroidery motifs and enhance the overall color scheme.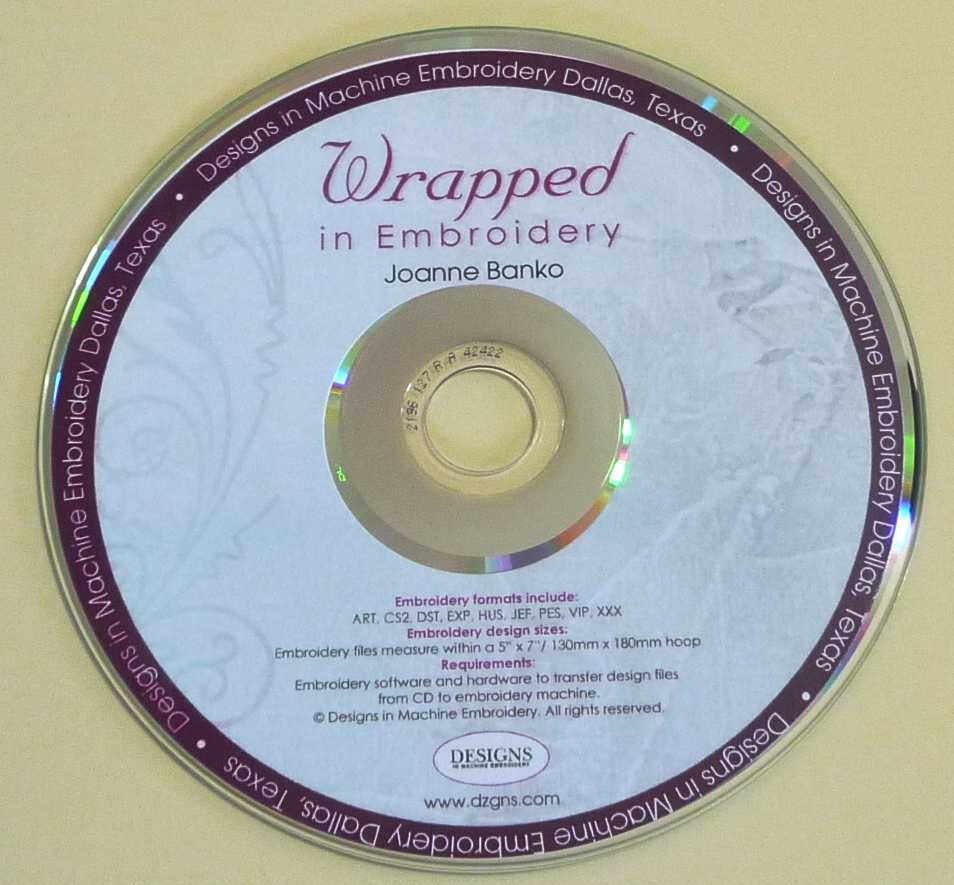 Framing embroidery designs with ribbons has become a favorite technique of mine and I thought you might like to give it a try. This is a simple technique you can use for many different embroidery projects. It's especially effective when you are embroidering on a flat, plain piece of fabric. Think about using this idea to frame the design on the center of a pillow top, create borders and bands on home décor items such as table toppers and curtain valances, decorate hemlines on skirts and dresses, and just about anything else you can imagine! Here are a few tips and ideas meant to inspire you to embellish your embroidery with ribbons.
Planning is the key to any successful embroidery project. Here are some basic guidelines to get you started: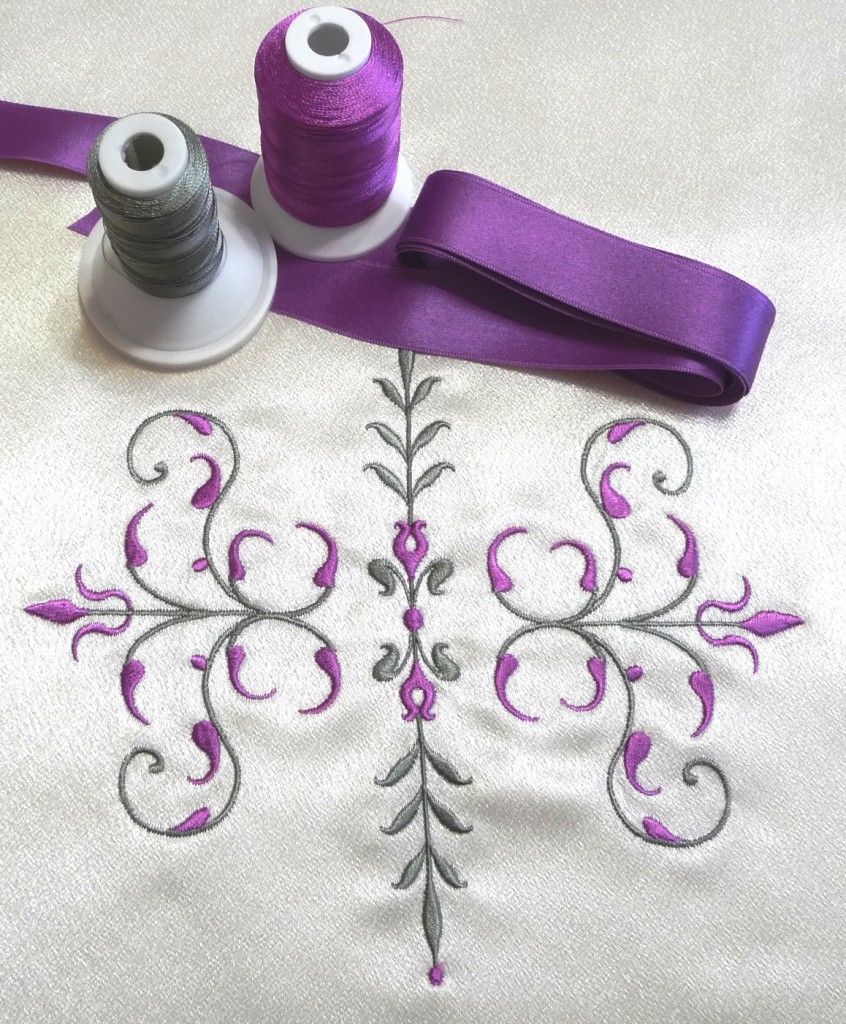 Select your ribbon first and then plan the embroidery design colors around your ribbon color. Ribbon colors are limited when compared to the availability of thread colors. Shop with your ribbon in hand and match your thread as closely as possible.
I usually use machine embroidery thread in the top and bobbin for sewing the ribbon. If you are torn between choosing thread slightly lighter or slightly darker than your ribbon, go for the darker shade.
I have used both wide ribbons and skinny ribbons, silk ribbons and synthetic ribbons. Synthetic ribbon is less expensive and readily available and silk ribbon is soft and luxurious. Match the laundering requirements of your fabric and your trims making sure they are compatible.
If your fabric is soft you may need to use a lightweight removable stabilizer to support the fabric as you attach the ribbons. I usually place a strip of light-weight tear away on the wrong side of the fabric.
I recommend a fine, sharp sewing machine needle, such as the size 10 Microtex needles found in this Schmetz assortment.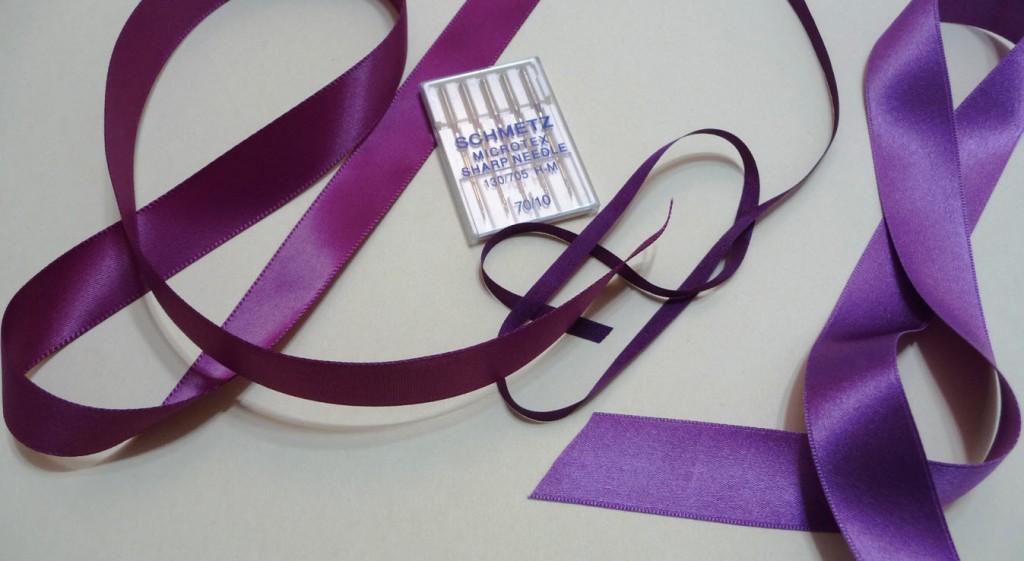 With the basics behind us, let's go sew! Below you will find some techniques for sewing wide and narrow ribbons using special accessory feet to make the task easier and more accurate. For the wide ribbons I prefer to stitch very close to the edge. My secret for keeping the ribbons in place while machine stitching is simple. I hand-baste the ribbon in place prior to stitching by machine.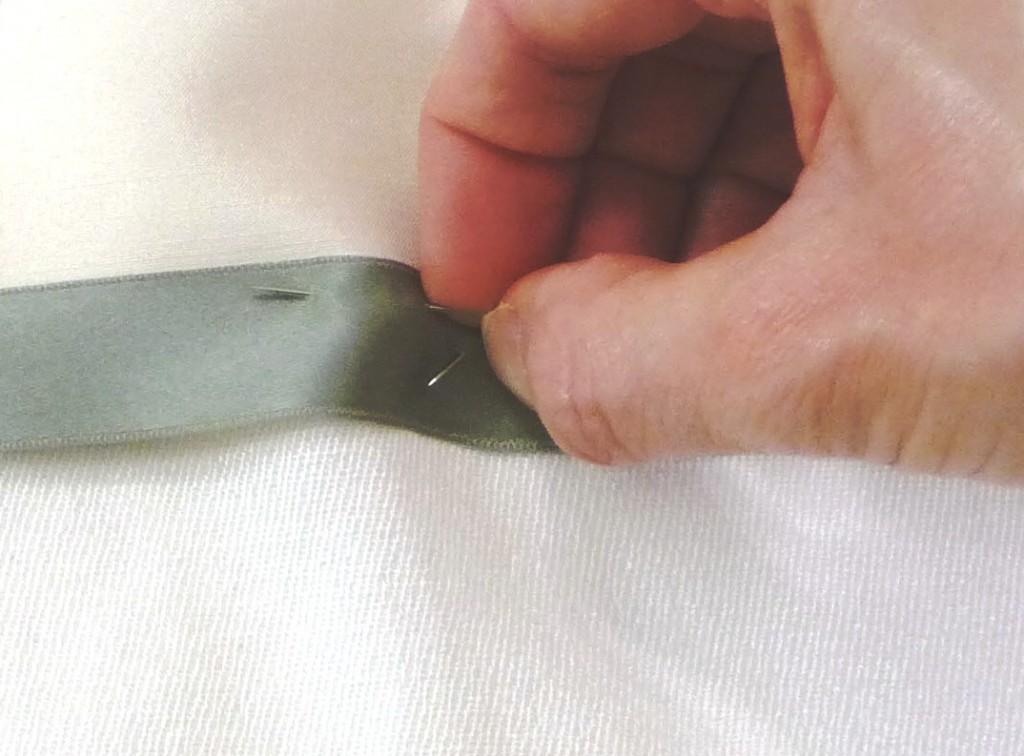 I know many of us have abandoned hand sewing techniques in favorite of quick stitching by machine. However, "there is a time and a place to baste". For me it actually saves time because skipping this step inevitably means I will waste time ripping and re-stitching when my ribbon slips out of position. Yet another advantage to hand basting is the fact that pins are removed prior to machine stitching the ribbons in place. Pins serve a valuable purpose for securing layers together but when sewing trims they seem to get in my way and distort the smooth lines of the ribbon. So, for me the steps are simple. Pin ribbon in place, hand baste, remove pins, and then machine stitch close to the ribbon edges to secure ribbons to fabric.
How do you edge-stitch ribbons really close while maintaining an even line for stitching? The Edge Joining Foot is the perfect solution. In combination with the ability to move the needle position for a straight stitch you can send the needle to the precise spot you need to achieve even edge-stitching. Begin with the needle in the center (width 3.5), and then line up the blade on the foot with the edge of the ribbon. Next, move the needle to the left using the stitch width key. I used a setting of 2.5.
With the proper setting your needle will pierce the ribbon at the very edge. If you begin to watch the needle as you stitch, you will likely start to waver. Be sure to keep your eye following the blade and the ribbon edge as you stitch.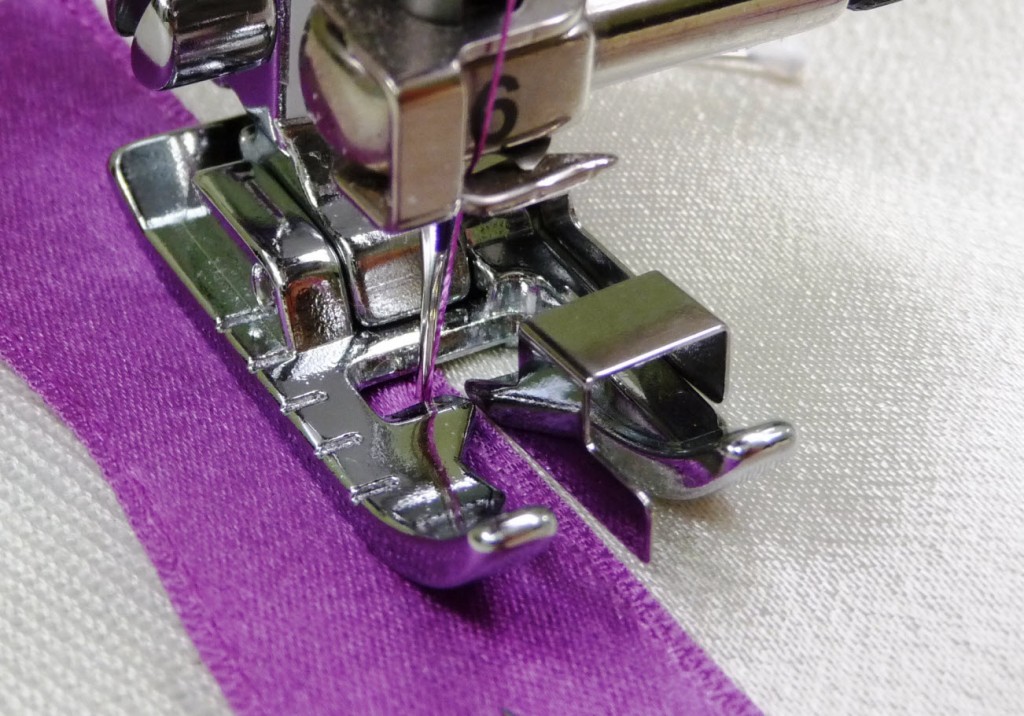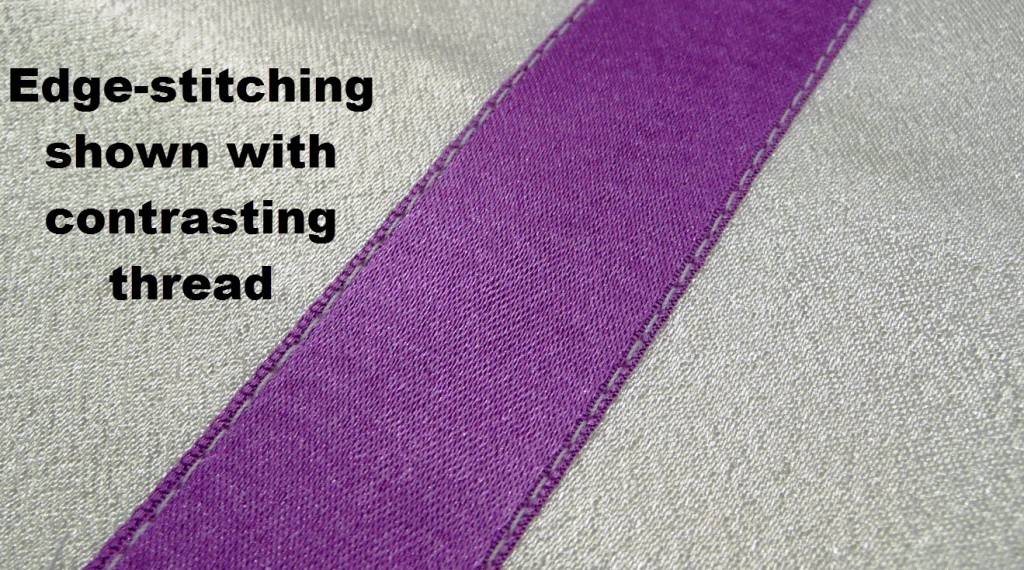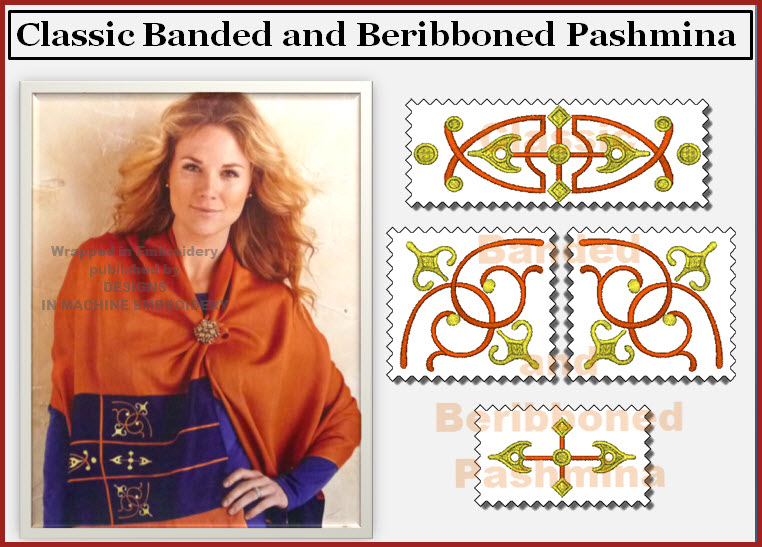 For my Classic Banded and Beribboned Pashmina I accented the embroidery with a narrow ribbon trim, specifically 4mm silk ribbon. I found that a Braiding Foot is perfect for attaching this narrow ribbon.
The braiding foot I used is adjustable, allowing you to change the size of the opening to accommodate variations in narrow trims. One trick for using this foot is to insert your ribbon into the foot before attaching it to the machine. Pull a small tail of ribbon behind the foot and then guide your trim over any marked positioning lines you have made on your fabric. To anchor the ribbon I like to use a standard zig-zag stitch, setting the zig-zag width so the stitch skips just over the right and left side of the ribbon.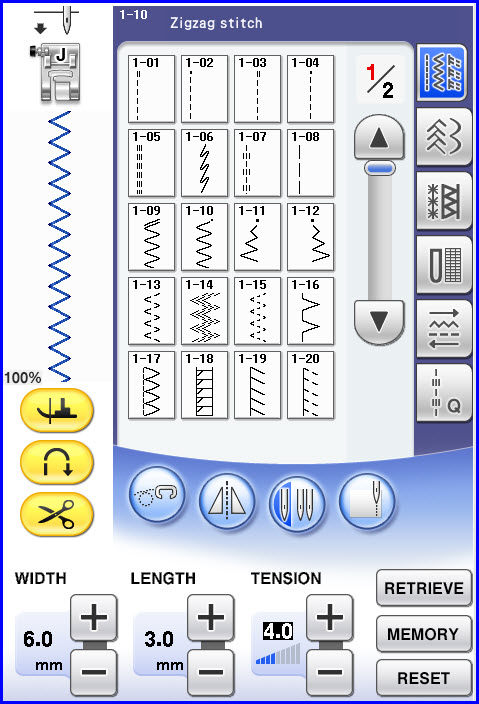 Remember, "to test is best." I like to work out the settings with scraps before plunging into stitching on my project. The photos below show the ribbon stitched with contrasting thread so you can see the stitches. Usually I match my thread to the ribbon so the look is subtle and understated.
If you like the idea of framing your embroidery with ribbons, next time you envision a single design or a group of designs on a fabric band, think about outlining or dividing the designs with narrow or wide ribbon. You can tie together the color scheme of your embroidery threads to your chosen ribbons for a color coordinated combination that accents your embroidery with style!
Next time . . . We'll explore embellishing ribbons with bobbin work decorative stitching. Until then, happy sewing from your sewing friend,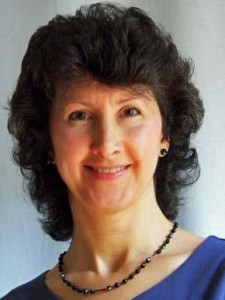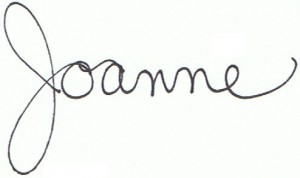 About the author: Joanne Banko is a freelance sewing educator and a self proclaimed sewing cheerleader. You can see Joanne's online teaching segments broadcast on the popular PBS TV show, It's Sew Easy, and online at www.itsseweasytv.com. She is a frequent contributor to Designs in Machine Embroidery magazine and author of the book Wrapped in Embroidery. The book is available at AllBrands.com. CLICK HERE for a preview. Visit Joanne and read her blog posts at http://www.letsgosew.com/.