Hello to all my Allbrands friends!
This is a reminder for you to watch the popular PBS TV show, It's Sew Easy this Saturday morning on your local Louisiana Public Broadcasting station. If you are reading this and wondering where in the world your local station is located you can CLICK HERE to search for PBS stations all over the country. I've been informed that LPB has episode #906 scheduled to air at 9:30 a.m. on August 29th. Did you know when you visit lpb.org you can click on the schedule, find your show, and ask them to send you a reminder to watch? Very helpful indeed!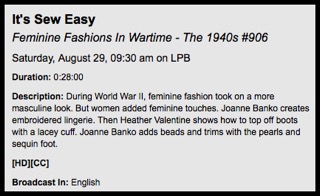 I had the opportunity to tape two segments for It's Sew Easy episode #906, one short and one long. You'll see all the details when it airs but I thought I'd give you a sneak peek at the lingerie projects and accessory items presented on the show. The theme for this show is 1940's fashions and lingerie and loungewear was the focus of my main segment.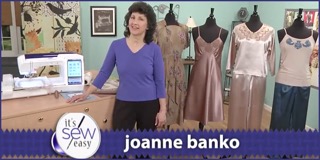 In my personal stash I admit to having quite a collection of patterns for this type of garment. Over the past decades I've made many PJ's, robes, and assorted versions of luxurious lingerie and loungewear. Maybe you're like me and this has become a much loved and highly anticipated gift item in your family circle. For several years my Mom knew she could expect a new robe as an annual gift. She ended up with many different ones in her closet and of course she never discarded a single one even if they were worn out and had seen better days. My husband still wears the now old custom robe I made bearing his monogram even though I've been forced to add elbow patches to the sleeves! For the featured garment on the show I used a current pattern from a company who specializes in reproducing vintage clothing and ethnic costume patterns. No worries about tricky instructions or outdated sizing, this Folkwear brand pattern is sized and styled for wearing in the 21st century.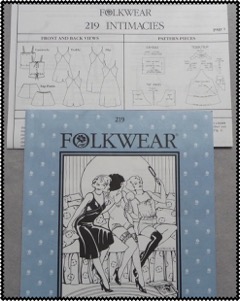 On the show you'll see a crepe back satin bias slip (this one hangs in my closet), that doubles as an elegant nightie. Complete directions and supplies for this project are available as a free download from itsseweasytv.com. You'll see all the basic embroidery steps performed on the show. The friendly folks at www.allbrands.com can help you purchase these supplies so you can make your own beautiful version of this classic style. Of course you can just copy a few of the techniques you see and apply them to a variety of items using your own design ideas!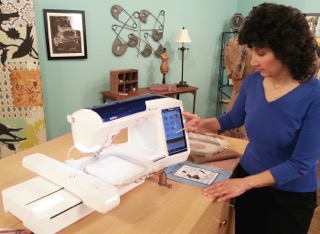 Check out the details on the garments below. The mannequins show a variety of ladies lingerie and loungewear, all embellished with machine embroidery. Pay attention to the close up details of the Brother Brand embroidery designs. Brother has contributed Free design downloads for the lace on the lingerie. That should give you a jump start for creating the lace appliques you see here.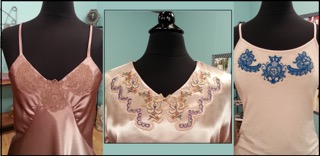 In the second, short segment you'll see embellishment ideas accomplished with one of my favorite accessory feet, the Pearl and Sequin Foot. It's a foot that's fun and easy to use for stitching craft pearls, shiny sequins and assorted round cording on garments, crafts, and home décor.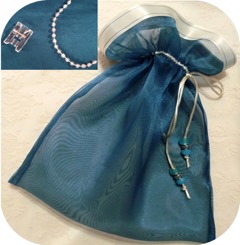 Soon it will be show time so mark your calendars or put your reminder into action so you're sure not to miss it. I'll be back in the near future with more updates for you. In the meantime I invite you to come and visit me at my sewing and embroidery website www.letsgosew.com.
Happy Sewing from your sewing friend,
Joanne Banko is a freelance sewing educator and a self-proclaimed sewing cheerleader. You can see Joanne's online teaching segments broadcast on the popular PBS TV show, It's Sew Easy, and online at www.itsseweasytv.com. She is a frequent contributor to Designs in Machine Embroidery magazine and author of the book Wrapped in Embroidery. The book is available at AllBrands.com.