Hello to all my Allbrands friends!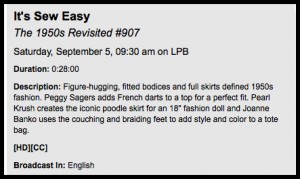 Are you interested in watching another great sewing show this weekend on Louisiana Public Broadcasting station? It's Sew Easy TV, Episode #907 airs on your local Louisiana Public Broadcasting station Saturday September 5th at 9:30 am. Visit lpb.org for more details. Of course many other PBS stations around the country carry this show as well. You can CLICK HERE to search for PBS stations all over the country.
The theme for this show is a Flashback to the 1950's with tips and techniques for contemporary sewing enthusiasts. You'll learn from Peggy Sagers how darts make a difference and flatter every figure with great fit. Next up you'll be smitten with details found on darling little doll clothes when you see Pearl Krush make some eye catching small size poodle skirts.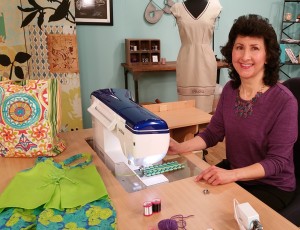 Last but not least, if you're crazy for couching I think you'll enjoy my short segment featuring couched accents stitched with specialty accessory feet. You'll find that couching is a technique offering lots of style with very little little effort. Chances are you have some assorted supplies for couching already in your stash. Just add an accessory foot suited for your machine to attach cords, yarn, and narrow braids with straight or decorative stitches that skip from side to side. You'll see some examples of accessory attachments made specifically for couching below.
Your friends at www.allbrands.com can show you all the options available for your own personal sewing machine. There are many to choose from.

The proper accessory foot lets you swirl and twirl across your fabric.  Sure, you can stick with straight lines too! Whatever you choose to do, these attachments allow for free form stitchery or precisely placed perpendicular lines.  Take a look at how Brother Innoveye® technology assists in aligning trim as you prepare to stitch.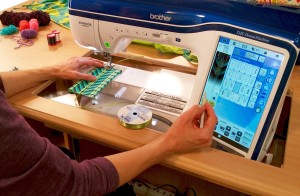 This is truly one of my all time favorite embellishment techniques. I used the braiding foot to add a little punch of purple to my Folkloric Fringed Wrap. Here's a little tip for you, dental floss threaders work great for feeding trim into a braiding foot. Start with a bit of trim in and under the foot before you attach it to the machine. Smooth the tail at the back end and then make certain the trim flows freely through the guide.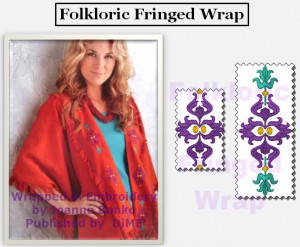 I'll warn you . . . once you get started with this type of surface embellishment it's hard to stop. Before you know it you may have covered most of your entire fabric surface. But hey, that's okay! Now you have an original work of art designed by YOU!
I hope you enjoy the show. If you have any questions or comments feel free to contact me. I'd love to hear your sewing success stories and help you with your sewing challenges as well.
Till we talk again I wish you Happy Sewing!
Joanne Banko is a freelance sewing educator and a self-proclaimed sewing cheerleader. You can see Joanne's online teaching segments broadcast on the popular PBS TV show, It's Sew Easy, and online at www.itsseweasytv.com. She is a frequent contributor to Designs in Machine Embroidery magazine and author of the book Wrapped in Embroidery. The book is available at AllBrands.com.