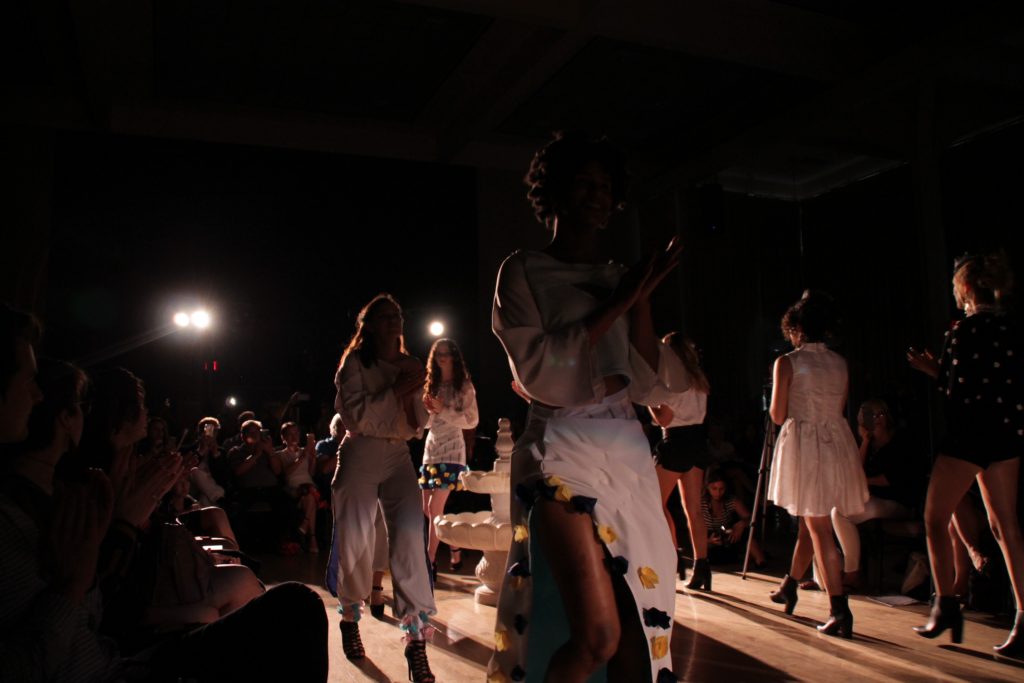 The LSU Fashion Association Fashion Show is an annual event which boasts styled outfits, original garments, and collections made by undergraduate students in LSU's Apparel Design program. In the show's 12-year history it has grown to be a staple in the Baton Rouge fashion community, highlighting young and talented designers and their works before they officially enter the workforce.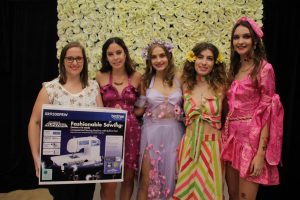 The night was kicked off by the styling competition. Students selected garments from Time Warp, a locally owned vintage boutique, to compose a complete head-to-toe look. Following the styling competition was the Junior garment show. This show highlighted the best garments completed by juniors in their apparel design lab at LSU. The winner of this section (and the winner of a Brother/Project Runway sewing machine courtesy of Allbrands.com), Natalie Welch, floored the crowd and judges with her lively and colorful garments. "To me," stated Welch, "my garments stand for spreading peace and happiness to loved ones and strangers. I used [bright] colors that creates an eye catching, bold statement to continue the anti-war movement started in the 1970s." With two trendy two piece sets and a flirty mini dress Welch has developed, her award is very well deserved and we at Allbrands look forward to seeing what this young talent has to offer!
The Senior collection show, which immediately followed the Junior garment show, highlighted collections developed by Senior level apparel design students in their garment lab. The students were challenged to develop a cohesive collection of at least 3 garments. Throughout all of the 12 included collections, there was a very strong theme of embracing femininity in both conventional and non-conventional ways. See selections from each of the students' collections below!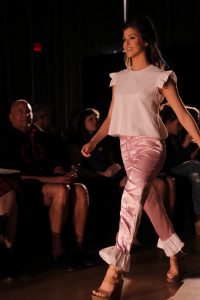 Carley Pere
Pere's collection was filled with delicate fabrics and sweet baby doll silhouettes. "I was inspired by the freeness and purity of the female body," reflects Pere, "so I wanted to make something that was flattering towards that."
Courtney Childs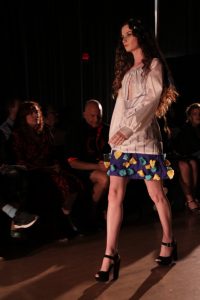 Childs' 5 piece collection was complemented by small flower details and pastel colors, featuring both two piece sets and dresses. Speaking on the inspiration behind her collection, Childs states she was "inspired by the picturesque vacations after long months of hard work; a decent holiday for the women that deserve it most."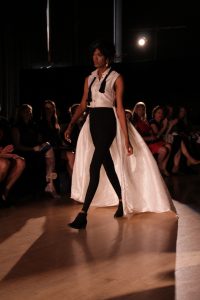 Mary Virginia Ayres
Ayres' collection featured garments that empower women through feminine shilouettes with touches of menswear such as bowties and sharp collars. "It praises women who have been, and will always be, unapologetically female."
Gabrielle Nolan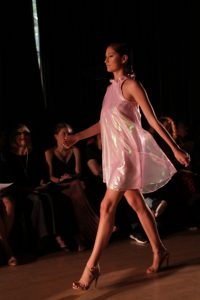 Gabrielle Nolan pulled inspiration from the eclectic go-go girl style with her brightly colored and iridescent garments. Sheer, iridescent panels combined with the vintage inspired silhouettes make for a collection of garments that seamlessly combines elements of yesterday and tomorrow.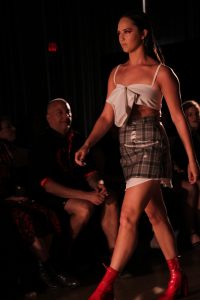 Tommy Do
Titled "Collection 001," Do pulls its inspiration from the common fetishization of the Japanese schoolgirl. By incorporating elements such as wet lamination, garment destruction, and "the binary of covered and uncovered," he creates a futuristic, avantgarde uniform for the liberated woman who "embraces her femininity, youthfulness, and sexuality as a means of strength."
Amanda Zaben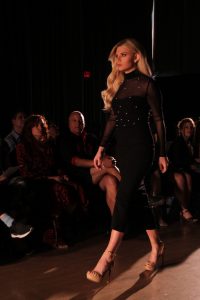 Zaben's collection stems from her proclaimed love of the color black and simplicity in design. The evening wear collection features sophisticated, reserved silhouettes with small pearled details. "I was inspired by sophisticated women in the fashion industry, who tend to go for more solemn looks," she says.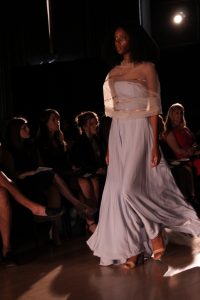 Jarithza Carlson
Carlson's models walked the runway in the designer's collection of evening wear inspired by her travels around Europe. Focusing on women of the renaissance and medieval period, she embraced their femininity and grace through "flattering silhouettes" with full sleeves and skirts. Her collection also incorporated light colors, flowing fabrics, and delicate embroidery detailing.
Katie Frost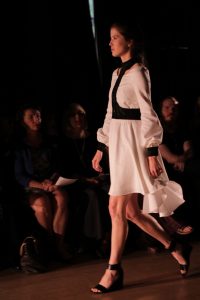 Frost designed a collection meant to "empower anyone who chooses to wear it." Her garments featured a simple black & white color palette as well as varying textures to create a very comfortable and natural look.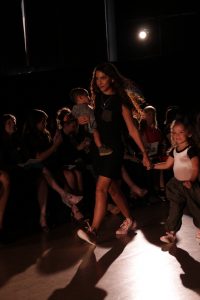 Jennifer Huddleston
Huddleston features garments primarily designed for children. Inspired by 90's hip hop fashion, the line is a combination of hip-hop street fashion and modern design – featuring modern silhouettes and color palettes. Huddleston also designed coordinating separates for women, to create a "mommy and me" look.
Emily Hamm
Titled "Das Bin Ich" (meaning 'this is me' in German), Hamm's collection features color blocking and vibrantly colored crochet elements. Hamm describes herself as "bold, vibrant, unique, colorful, fun, wild, and free," and she mirrored those qualities into her lively collection. "I chose [the title] because my late Grams was German, and the crochet blanket and doilies in my collection were once hers."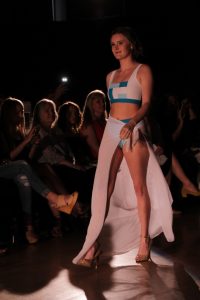 Angelle Jurasin
Sporting the only swimwear collection of the evening, Jurasin used color blocking and calming hues of blue and turquoise commonly associated with the ocean. "I have always had an infatuation with the ocean," she said, "so I wanted to incorporate that love in a line of swimwear."
Jillian Kieffer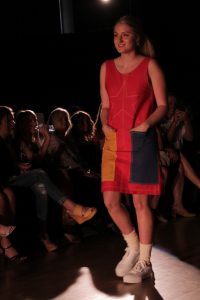 Kieffer, the winner of the senior collection competition, pulled inspiration from small town America. The collection showcased oversized garments such as overalls, and dresses made of heavier weight fabric, creating a boxy silhouette. The garments also featured chunky patchwork and small embroidery details for an overall handmade aesthetic.