Hello to all my Allbrands friends!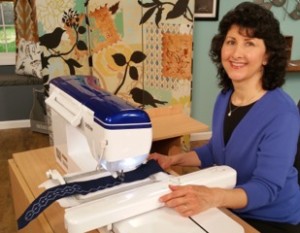 I'm beginning to feel like Louisiana is almost like home away from home for me! Soon, I'll be in beautiful Baton Rouge and I hope to see many of you at the ALLBRANDS.COM sold out Embroidery Garden Party. I'll be there along with Angela Wolf and Reen Wilcoxon as we join together for two days of unbelievable embroidery fun!!! I know I speak for all of us in saying that we're excited to see you all! We'll stitch six fabulous in-the-hoop embroidery projects, make new friends, eat great southern food, and have more fun than a cowpoke at a western rodeo!
So, what does a rodeo have to do with an Embroidery Garden party? Nothing really, but I'm also writing today to remind you to watch the online version of the popular It's Sew Easy PBS TV show. Episode 1008, aptly titled Stepping Out will air on the It's Sew Easy TV website from now until noon on Friday, May 20th, 2016. The show begins with my version of a Rodeo Cowgirl Jacket. Watch the show and you are sure to see that I love western style clothing!!! How about you?
This denim jacket features embroidery designs from my book Wrapped in Embroidery along with built in designs from the Brother Dream Machine. Although the theme is classy, classic western inspired clothing, this segment is all about how to accomplish perfect placement with templates and create continuous border style stitching using a combination of high tech Brother embroidery innovations.
Would perfect embroidery placement on garments be a dream come true for you? Have you ever wanted to embroider from here to the moon and create continuous embroidery designs that are perfectly matched from end to end? Both of these embroidery challenges are possible on any machine when you know the tricks for precise placement.
On the show you will see me use the Brother Dream Machine to accomplish perfect placement with templates and stitch continuous borders by using a basting box and the Droplight® laser. If you own this machine you will love the easy, accurate methods presented in this show. In fact this process will work on many different Brother models. Depending on your Brother machine model, you'll find there are many more ways to create the same effect.
So, what if you have a machine without these high tech toots and whistles. There is a solution for that! In the second chapter of Wrapped in Embroidery I outline three methods for perfect placement and stitching continuous, endless embroidery on any machine! You are sure to find one or more methods that work for you, no matter what level of capability your current embroidery machine has.
Now, why not make yourself comfortable and CLICK HERE to watch It's Sew Easy TV episode 1008? In this show you'll also be treated to an accessory lesson presented by Angela Wolf.
Enjoy the show and I'll talk to you again soon. Until then, I wish you Happy Sewing!
Joanne Banko is a freelance sewing educator and a self-proclaimed sewing cheerleader. You can see Joanne's online teaching segments broadcast on the popular PBS TV show, It's Sew Easy, and online at www.itsseweasytv.com. She is a frequent contributor to Designs in Machine Embroidery magazine and author of the book Wrapped in Embroidery, available at AllBrands.com.

Visit Joanne at her Sewing and Embroidery website, www.letsgosew.com and on Facebook at https://www.facebook.com/letsgosew